Adius, 2009
Murano glass, about cm 12x8x8
Glass Master Silvano Signoretto, Murano (I)
…perché un cuore giace inerte
rossastro sulla strada
e un gatto se lo mangia
tra gente indifferente
…'cause a reddish heart lies
motionless on the ground
being eaten by a cat
as people walk by unconcerned
Piero Ciampi, Adius, 1975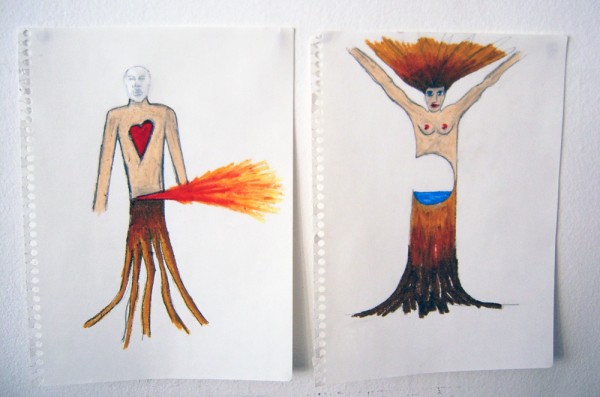 Lara and me, 2008
2 drawings, oil pastels and pencil on paper, each one cm 30×20
(in loving memory of my uncle Marcello)
Acqua eravamo deposta ascosa nei lombi,
fuoco di libidine poi ci porto' nuovi nel mondo;
aria e vento domani soffieran via la Polvere nostra.
Passiamo dunque questi due istanti che abbiamo, col Vino!
Water we were, hidden in the loins,
fire of lust then took us new, in the world;
air and wind tomorrow will blow away our dust.
So let's pass these two moments that we have, with wine!
Omar Khayyam , Quartine (Ruba`iyyât)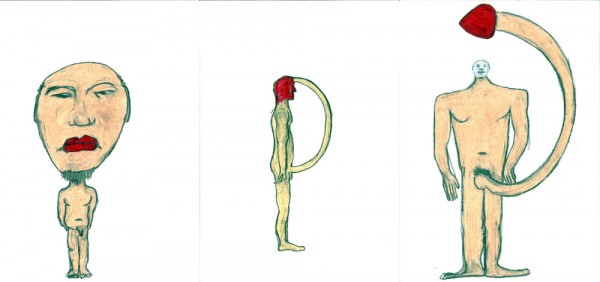 Trittico della potenza sessuale / triptych of sexual power, 2008
3 drawings, oil pastels and pencil on paper, each one cm 30×20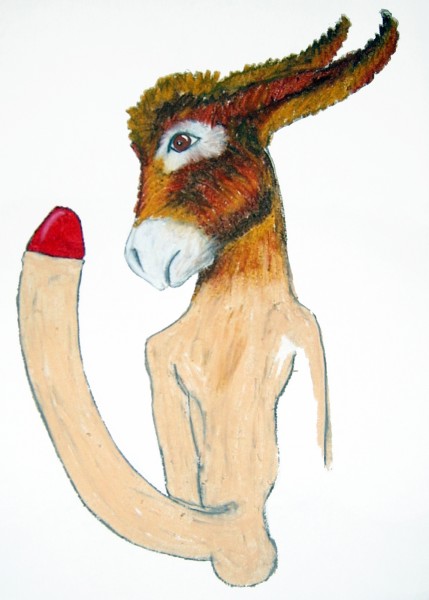 Ass (Priapus), 2008
oil pastels and pencil on paper, cm 30×20
Red cock, 2008
oil pastels and pencil on paper, cm 30×20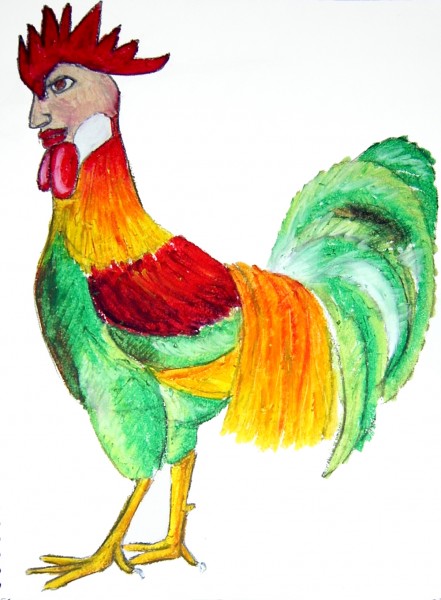 Green capon
2008, oil pastels and pencil on paper, cm 30×20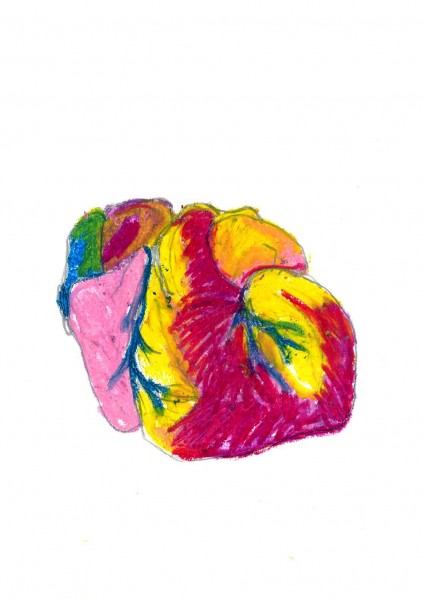 Heart, 2008
oil pastels and pencil on paper, cm 30×20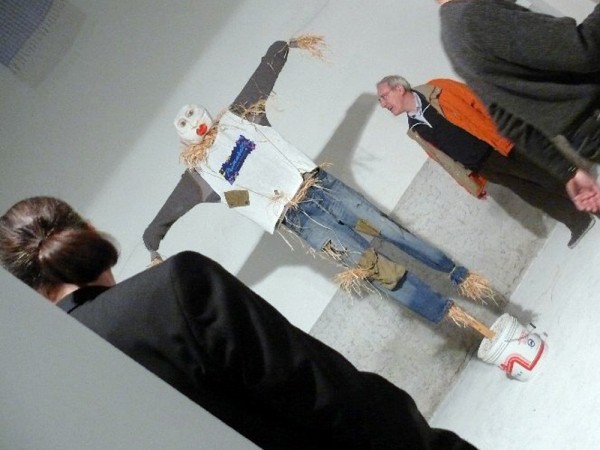 L'uomo di paglia / The straw man
2008 – Wood, straw, fabric, oil pastels on fabric.
Made by Lister Sartoria Sociale, Trieste
Alla malora ogni romanticismo da svenata canzoncina d'ammòre. Se al cuor non si comanda, meglio farne cibo per gatti affamati e lasciarlo rotolare nel letto di un fiume. E poi abbandonarlo tra la paglia di uno spaventapasseri…
Daniele Capra
To hell every romanticism in love-song-style. If the heart can't be controlled, better turn it into food for hungry cats and let it roll in the bed of a river. And then leave it in the straw of a scarecrow …
Daniele Capra