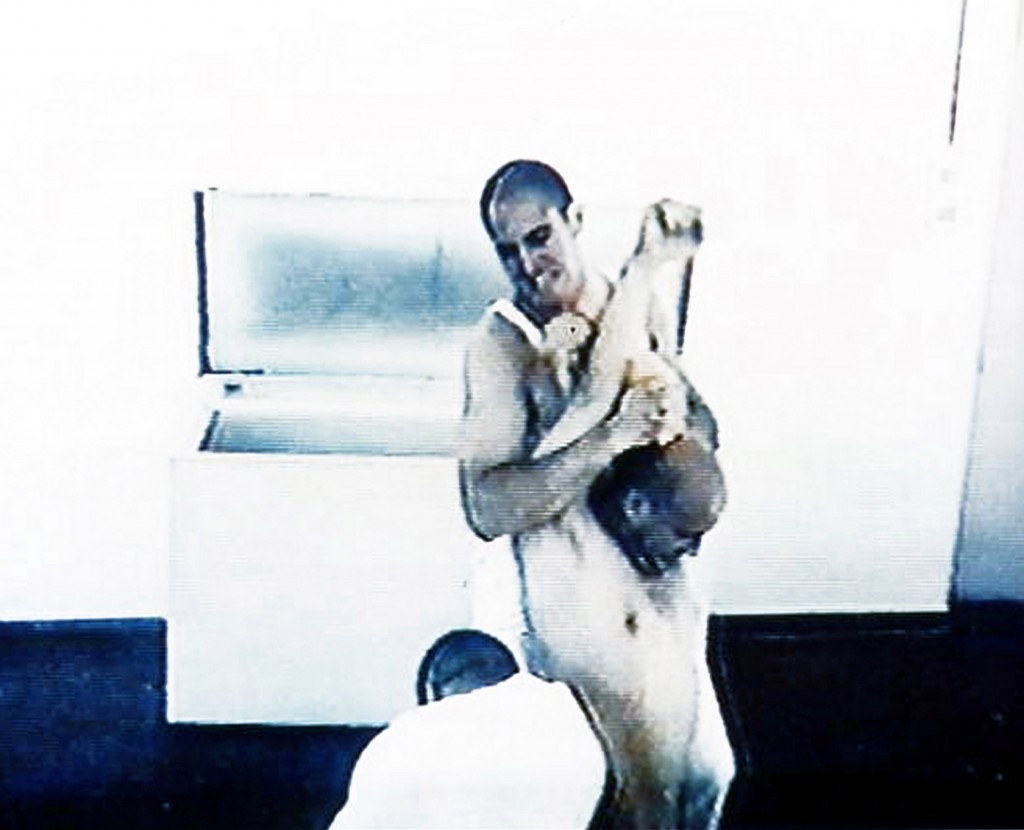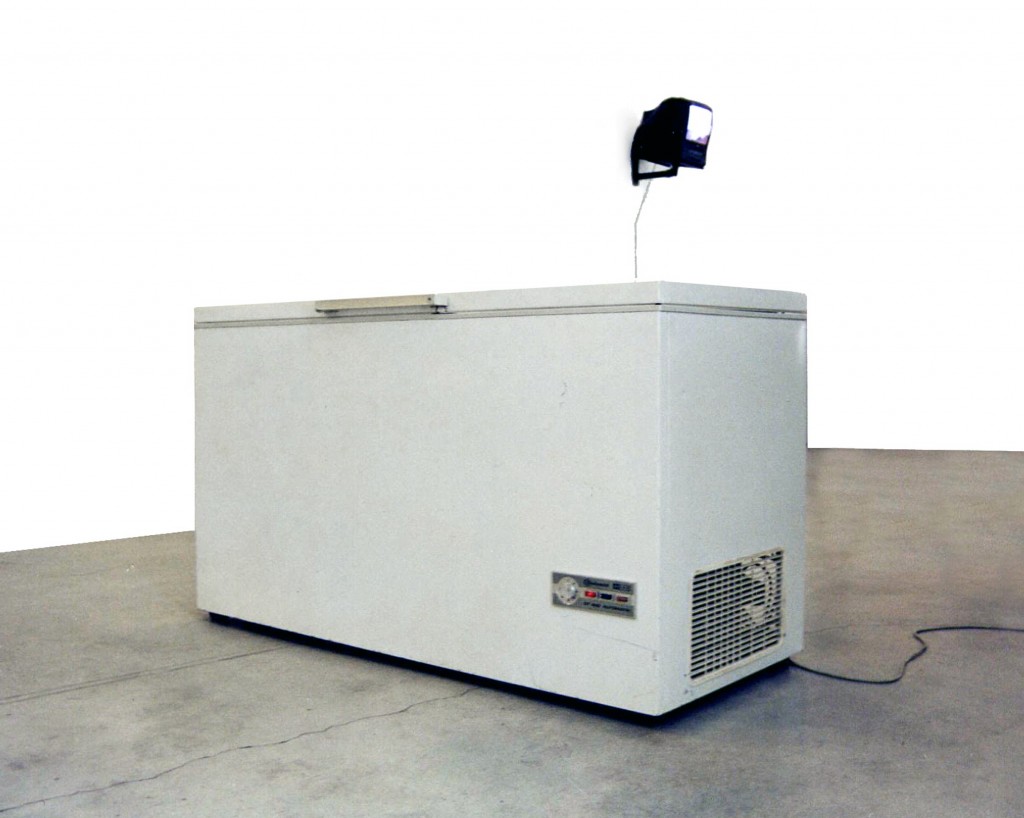 Può un freezer bianco, grande, freddo ribellarsi al suo essere semplicemente un congelatore per cibi surgelati e mutare, grazie al lavoro dell'artista, in qualcosa d'altro? Pare di si, dato che Andrea Contin lo ha trasformato in una prigione agghiacciante per un corpo parlante.
Una mutazione è avvenuta e qualcosa sta ancora lottando tra il buio e la luce: una voce abita quello spazio, un uomo chiede di uscire, si sente il respiro. Il freezer non è più un frigorifero perché ha imprigionato dentro la sua cavità color ghiaccio un corpo, un uomo, un'immagine. E' iniziata una lotta, senza spargimento di sangue, anzi "divertente", tra il corpo caldo dell'artista e il corpo freddo del freezer. Un corpo a corpo, una lotta fatta di respiri ansimanti e di stiramenti di muscoli (…)
Can a big white cold freezer rebel against the fact it only serves to hold frozen food and change into something else thanks to the artist's work? It would seem so, considering that Andrea Contin has turned it into an appalling prison for a talking body.
A change has taken place and something is still battling in the darkness and light: a voice inhabits that space, a man is asking to get out, you can hear him breathing. The freezer is no longer a fridge because it has trapped a body inside its ice-coloured cavity, a man, an image. A battle has begun in which no blood is spilt, indeed it is "funny", between the warm body of the artist and cold body of the freezer. One body against another, a battle characterised by gasping breath and pulled muscles (…)
Maura Pozzati
______________________
Il video "Freezer" è la testimonianza documentaria di un incontro scontro fra due uomini vestiti di bianco, armati delle peggiori intenzioni e l'artista, o meglio, il suo corpo nudo.
La lotta ha inizio e preannuncia una vera e propria battaglia all'ultimo sangue dove i carnefici e la vittima combattono per avere, ciascuno a suo modo, la meglio sull'altro.
Qualcuno perderà e progressivamente intuiamo che la vittima rimarra tale mentre i due energumeni, simbolo di una lotta dispari, vinceranno sul nostro malcapitato andrea Contin.
Il freezer non è più un contenitore "fresco" ma il non luogo, uno spazio fuori dal tempo e privo di libere uscite che imprigiona al suo interno un corpo, un suono, un immagine. (…)
The video clip entitled Freezer is a documentary account of an encounter/clash between two men dressed in white, armed with the worst intentions, and also the artist or, rather, his naked body. The fight begins and looks like being a real battle to the end, as the executioners and victim battle to get the better of their adversaries, each in their own way. Somebody is bound to lose and we slowly realise that the victim will inevitably be just that, while the two wild men, symbolising an unfair fight, will beat our unfortunate Andrea Contin. The freezer is no longer a "fresh" container but rather a non-place, a space outside time with no free exits, trapping a body, sound and image inside it.
Fabiola Naldi
______________________
Ecco come è risolta la questione del passaggio in iperoggetto di un oggetto normalissimo: posto che iperoggetto è l'oggetto che accoglie e contiene le intenzioni, i desideri, le fantasie del consumatore (di merci o di arte, poco importa), Contin taglia la testa al toro, si fa accogliere e contenere lui stesso nell'oggetto, vi entra dentro. È esattamente ciò che succede in Freezer, dove, grazie al video e al sonoro, il freezer del titolo acquista una potenzialità eccezionale: si trasforma in una terribile macchina da tortura. Una tortura, però, pronta a ribaltarsi in chiave comica, in gag grottesca.
Here is how the issue of transforming e a very ordinary object into a hyper object is handled: assuming that a hyper-object is an object encompassing and containing the intentions, desires and fantasies of a consumer (of goods or art, it makes no difference), Contin resolves the matter by actually encompassing and containing himself in the object, he actually enters inside it. That is exactly what happens in Freezer, as the freezer in question gathers exceptional potential thanks to the video clip and soundtrack: it turns into a horrendous instrument of torture ready to be upturned, in comic fashion, into a grotesque gag.
Guido Bartorelli