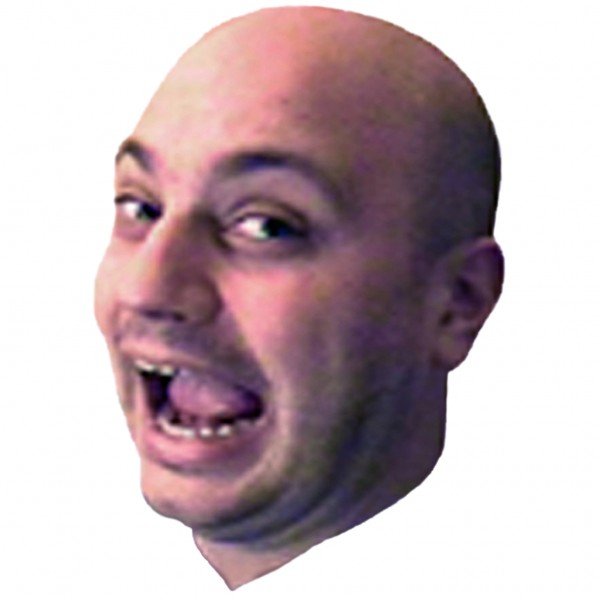 Andrea Contin
Born in Padova in 1971, lives and works in  Milan and (sometimes) in Venice.
An eclectic, clever and cutting artist, drawer, installation designer and video artist with great evocative powers and an irony which captures the farce inherent in life by means of a deliberately contrived formed of nastiness and elegant emotional splatter.  
Martina Cavallarin
Contin's work combines a powerful physical presence with an amusing and thought-provoking use of the body. With lightness and profundity, he is not afraid to touch on issues and archetypes at the very foundations of life, such as death and struggle, either ritualistic or just to survive.  
Lara Facco
(…) creator of objects, installations and performances, whose conceptual intention is expressed in terms of rigorous synthesis and irony, based on modern mass-media means of  communication, which combines aesthetic and visual codes with verbal codes.  
Alfredo Sigolo
The eclectic work of Andrea Contin (…) converges towards visionary thinking inhabited by apparently harmless objects, which though, upon closer scrutiny, reveal their disturbing side, drawing on a sculptural kind of vocabulary inspired by the world of children but reinterpreted along adult lines.
Eugenio Viola

As an artist, after first tackling issues related to Abstract Informalism, his interests shifted to aspects of Environment and Installation while studying in Bologna.
After completing his education, he developed his own firm conceptual framework for handling the eclectic range of stylistic-formal tools characterising his work.
He exposed his works in many solo exhibitions, group shows, fairs and awards in Italy and abroad.
In the  educational field, he began his journey with situations of mental desease, through workshops for children, museum education, teaching in high school and University, until the work as an Educator in rehabilitative community for minors with Noi Associazione in Padova, the cooperation with Fondazione Wurmkos  in Sesto San Giovanni (MI) and the cultural mediation at the Atelier dell'Errore exhibition in Milan in 2015.
education
2015 Qualified Teacher Status in Painting Disciplines at the Fine Art Academy of Brera in Milan
2014 Bachelor's degree Summa cum Laude in Psychological Sciences and Techniques at Psychology Department of University of Padova (I)
Download: Musica per i tuoi occhi, Ricerca sull'interazione tra la visione di illusioni geometriche e l'ascolto di musica
Issues: Graziano Cecchinato, Andrea Contin, Gianni Minazzo, Alessandra Torresan, Psy-net: un'esperienza di corso di laurea on-line, atti del convegno MoodleMoot 2014, Università degli Studi di Padova, Centro Multimediale e E-Learning di Ateneo, 20-21 giugno 2014
1996 degree in Painting at Fine Arts Academy, Bologna (I)
1989 Graduated at Art High School in Padova (I)

training and internship
1999 Training course for educators in the museum and in the territory organized by
Associazione Amici dei Musei e Monumenti Veneziani, in collaboration with Musei Civici Veneziani
and the patronage of the Department of Education, Palazzo Mocenigo, Venezia (I)
Approach to modern art, international stage on museum education held by Atelier des Enfant
of the Centre Pompidou in Paris and organized by the Educational Department of G.A.M. – Galleria d'Arte Moderna, Bologna (I)
Member of the staff of the Educational Department of G.A.M., Galleria d'Arte Moderna in Bologna,
until the final exhibition Put the work in quotation marks – artists and boys to compare.
1996 The actor and the mask: the clown, theatrical workshop with Nani Colombaioni, Teatro Due Mondi, Faenza (I)
1996/97 Volunteer at A.N.F.F.A.S. of Bologna (I), engaged in educational and creative
activities with people with mental disabilities
1990 Animathon, cartoon workshop directed by Raffaele Luponio and Andrè Leduc, Cineteca Comunale, Bologna (I) and Treviso Cartoon, International Cartoons Festival, Treviso (I)
Cartoon Workshop directed by Raffaele Luponio, Liceo Artistico Statale, Padova
residences
2014 Made in Filandia, Filanda di Pieve a Presciano (I)
2011 Scholarship at Vermont Studio Center, Johnson, Vermont (USA)
2009 Artist in residence at Scuola Internazionale di Grafica, Venezia (I)
teaching
2010 - 2013 Art Professor in educational and rehabilitative communities for minors with
behavioural and emotional disorders for Noi Associazione in Padova (I)
2009-2010 Painting Professor, Boston University Venice Art Studio Program – Scuola Internazionale
di Grafica, Venezia (I)
2006 – 2009 Teacher of Disegno dal Vero and Modellato at Liceo Artistico Orsoline di San Carlo, Milano (I)
lecture and workshop
2013 Organizer and moderator of the presentation of Scene da un patrimonio, a book by Antonio Carnevale and Stefano Pirovano, Banca Sistema Arte, Milano
2011 Visiting Artist, New York University, Venezia (I)
Performance-video-fotografia, lecture, Comune di Padova, Assessorato alla Cultura, Centro
Nazionale di Fotografia, Galleria Sottopasso della Stua, Padova (I)
The beast and the Heart, workshop, Accademia di Belle Arti ACME, Milano (I)
Art Workshop Assistant, Johnson Elementary School, Johnson, Vermont (U.S.A.)
2010 Guess Lecturer, New York University, Venezia (I)
Rompiamo I giocattoli, creative workshop, Scuola Elementare A. Diaz, Venezia (I)
2009 Lecturer at Cross the line, workshop curated by Associazione Amici del Gabinetto Disegni e
Stampe degli Uffizi di Firenze, Palazzo d'Accursio, Bologna (I)
2008 Disegno in azione – Andrea Contin's Inferno happening – workshop, Boston University Art Studio Program, Venezia (I)
Partenze e Arrivi, lecture with Giovanni Rizzoli curated by Associazione"E:", Boston University Studio, Venezia (I)
2007 Q. a PAROLE, lecture at Quotidiana 07, curated by Guido Bartorelli, Teresa Iannotta and
Stefania Schiavon, Padova (I)
Terza Giornata del Contemporaneo, lecture at MART, Rovereto (I)
2006 Visiting Professor at 3°DMW_digitalmedia art workshop 06, Villa Franchin, Mestre (I)
other collaborations
2015 Coordinator and Expert Cultural Mediator at Uomini come cibo, exhibition by Atelier dell'Errore organized by Max Mara – Collezione Maramotti in Milan (I)
2012 Member of the International Jury of MAshRome Film Fest, first Italian Mash Up festival, Roma (I)
2010-12 Juryman at ArtGallery, Contest for young artists, Milano (I)
Secretary, advisor and speaker of the Max Boxe Boxing Team, Padova (I)
2010 Curator, with Mara Ambrosic, of Outcome, workshop and group-show by Jabulani Maseko
and Kiluanji Kia Henda, in collaboration with Fondazione Bevilacqua La Masa,
Fondazione Venezia, Boston University Studio Program, Scuola Internazionale di Grafica
and Associazione "E:", Sala del Camino, Venezia (I)
Curator, with Francesco Ragazzi and Francesco Urbano, of Sketchbooks, workshop and
group-show by Andrea Kvas, in collaboration with Boston University Studio Program,
Scuola Internazionale di Grafica and Associazione "E:", Centro Zitelle 95, Venezia
2006 Production Assistant on È morto Cattelan! Evviva Cattelan! a movie by Elena Del
Drago and Marco Penso, Wilder – Hublab edition.
selected solo show
2014 Flame (chains), galleria Placentia Arte, Piacenza (I), texts by Penzo+Fiore, Luisa Altafini and Alice di Lauro
2011 As a Clown, Factory-Art gallery, Berlin (D)
Matello, Piscine Padovanuoto, Padova (I), curated by Enrico Gusella, produced by Centro
Nazionale di Fotografia, Padova, for Padova Aprile Fotografia 2011
2010 Deux sexe-maniacs – Ben Vautier e Andrea Contin, Spazio MAKS, Genova (I), curated
by Caterina Gualco, texts by Lara Facco and Claudio Musso
2009 The Beast and the Heart, Scope Art Show, Basel (CH), text by Luisa Altafini, Factory-Art gallery, Berlin (D)
2008 Adius, Factory-Art gallery, Trieste (I)
2006 Lu pisce, Scuderie di Palazzo Moroni, Padova (I), curated by Enrico Gusella
Una furtiva lacrima, UnimediaModern, Genova (I), text by Tatiana Carelli
2005 Know How (Incipit), Public Library happening, curated by GC.AC, Monfalcone (I)
2004 Il buon andrea, Dispari & Dispari Project, Reggio Emilia (I), curated by Andrea Sassi
2003 cq, galleria A+A, Slovene Central for Visual Art, Venezia (I)
Versus, Circuit Association d'Art Contemporain, Lausanne (CH), text by Michele Robecchi
2002 Versus, Arte & Ricambi, Verona (I), text by Michele Robecchi
2001 Enola Play, with Lorenzo Scotto Di Luzio and Pierluigi Calignano, Antonio Colombo Arte
Contemporanea, Milano (I), curated by Raffaele Gavarro
I facchini sono sempre innamorati, Placentia Arte, Piacenza (I)
Claustrofilia, Zone c/o Graffio, Bologna (I), text by Lara Facco
2000 Albergo diurno, Loft Arte, Valdagno (I), text by Tiziano Scarpa
S'i' fosse foco, Zone c/o il graffio, Bologna (I), curated by Guido Molinari
1999 Freezer, Fioretto Arte Contemporanea, Padova (I), texts by Maura Pozzati and Guido
Bartorelli
Collezioni (i miei istinti primari), Teatro Miela, Trieste (I), curated by Maria Campitelli
Collezione di Farfalle, Galleria Estro, Padova (I), text by Sonia Rosso

selected group show
2014 Objects – memory and addiction, curated by Giovanni Viceconte, 24th Biennal of Design, Ljubljana (SLO)
King Kong, curated by Andrea Bruciati, ArtVerona, Verona
Gambling, curated by Eugenio Viola, Galleria Bianconi, Milano
Videoart Yearbook, Complesso di Santa Cristina, University of Bologna Bologna
Ne me quitte pas, galleria Upp, Venezia, curated by Caterina De Cesero
2013 Contro Zona, Forte Carpenedo, Mestre (I), curated by Andrea Penzo and Cristina Fiore
2010 Persona in meno, Palazzo Re Rebaudengo, Guarene d'Alba (I) / Palazzo Ducale,
Genova (I), curated by Angelique Campens, Erica Cooke and Chris Fitzpatrick, organized by
Fondazione Sandretto Re Rebaudengo, Torino (I), and Fondazione Garrone, Genova (I)
The area of bustle, in Art Stays-8th International Festival of Contemporary Art, Ptuj (SLO), curated by Manuel Frara
Act Art 8-Censored, The Islington Metal Works, London, (UK), curated by Oliver Frost and
Marc Massive
Andrea Contin and his students, Scatola Bianca, Venezia (I), curated by Martina Cavallarin,
in collaboration with Boston University Art Studio Program and Scuola Internazionale di
Grafica, Venezia
L'uomo ridotto, Brown Project, Milano (I)
2009 UPUPA, BLUorG, Bari (I), curated by Grazia De Palma
Art Happens Now, GoClick Limited, Verona (I), curated by SmartArea
2008 The Scientist, Sala Estense, Ferrara (I), curated by Vitaliano Teti and Ilenia Mazzoni
Giungla Video.3, SpAC – Spazio pubblico Arte Contemporanea, Buttrio (UD), curated by Paolo Toffolutti
2007 Videoart Yearbook 2007, Chiostro di Santa Cristina, Bologna (I), and other sites, curated
by  Renato Barilli, Alessandra Borgogelli, Paolo Granata, Silvia Grandi, Fabiola Naldi and Paola
Sega
WORDS/PAROLE, A multilingual homage to Allan Kaprow, Unimediamodern, Genova (I)
2006 CRASH!, MudimaDrie, Antwerpen (B), curated by Gianluca Ranzi
Bigscreen Italia, Yunnan Arts Institute YanBoTing, Kunming (CN)
Open space, Centro Culturale Candiani, Mestre (I), curated by Lara Facco
Senza Famiglia, Palazzina della Società della Promotrice delle Belle Arti, Torino (I), curated by
Laura Carcano
Catodica, Galleria LipanjePuntin Arte Contemporanea, Trieste (I), curated by Maria Campitelli
2005 Clip.it, Fondazione Sandretto Re Rebaudengo, Torino (I) – Prague Biennale 2, Praha
(CZ) , curated by Luca Beatrice
SerrOne – biennalegiovani.monza.05, Villa Reale, Monza (I), curated by Ermanno Krumm
Finalist at the contest Premio Masaï Art Factory 2005, AssabOne, Milano (I), curated by
Giuliana Carusi Setari, Giò Marconi, Lucia Matino, Roberto Pinto and Gabi Scardi
Un cuscino per sognare, Palazzo Casotti, Reggio Emilia (I) – Kult Fabrik, München (D),
curated by Rosanna Chiessi and Andrea Sassi
Senza Dubbio – XXX Biennale d'Arte di Trissino, Trissino (I), curated by Marco Cingolani
2004-2006 On Air: video in onda dall'Italia, GC.AC – Galleria Comunale d'Arte
Contemporanea, Monfalcone (I) – MACRO, Roma (I) – Centro d'Arte Contemporanea Luigi
Pecci, Prato (I) – Kunst Meran, Merano (I) – Careof, Milano (I) – Belef. Belgrad Summer
Festival, Beograd (SRB) – Istitut for Italian Culture in South Africa, Pretoria (ZA), curated by
Andrea Bruciati and Antonella Crippa
Work acquired by contemporary italian video-art archives of Istitut for Italian Culture in Beograd
(SRB)
2004 Suburbia, Chiostri di S. Domenico, Reggio Emilia (I), curated by Marinella Paderni and
Marco Senaldi
Armoury, Trevi Flash Art Museum, Trevi (I), curated by Luca Beatrice and Laura Carcano
Video Dia Loghi, Centre Culturel Français, Torino (I), curated by Willy Darko and Mario
Bertoni
2003 IV Premio Querini Stampalia FURLA per l'Arte, Venezia (I) (invited artist),
2002 Tensio, GC.AC Monfalcone (I), curated by Andrea Bruciati
Gemine Muse, Musei Civici agli Eremitani, Paodva (I), curated by Guido Bartorelli
Last Minute, Vecchio Ospedale Soave, Codogno (I), curated by Lara Facco and Lino Baldini
2000 Outlook Express, viafarini, Milano (I), curated by Alessandra Galletta
Brescia Music Art, Palazzo Bonoris, Brescia (I), curated by Fabiola Naldi
Arte Video TV, Villa Serena, Bologna (I), curated by Gabriele Perretta, Carlo Terrosi and Antonio D'Orazio
Italian History X, Palazzo Parissi, Monteprandone (I), curated by Antonio D'Orazio and Fabiola Naldi
1998 A questo punto, fondazione Bevilacqua la Masa, Venezia (I), curated by Chiara Bertola and Riccardo Caldura
1994 6° Premio Europeo Arteviva '94, Palazzo del Duca, Senigallia (I)