Il buon andrea, 2003
video: color, sound, 4'34"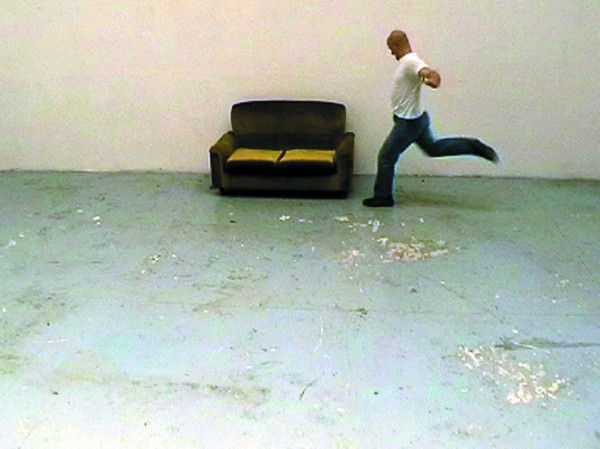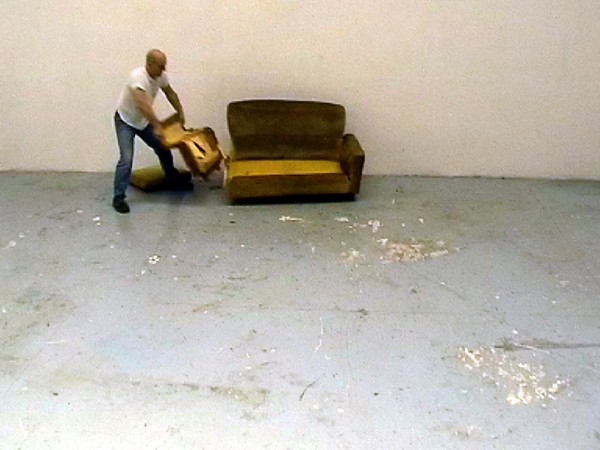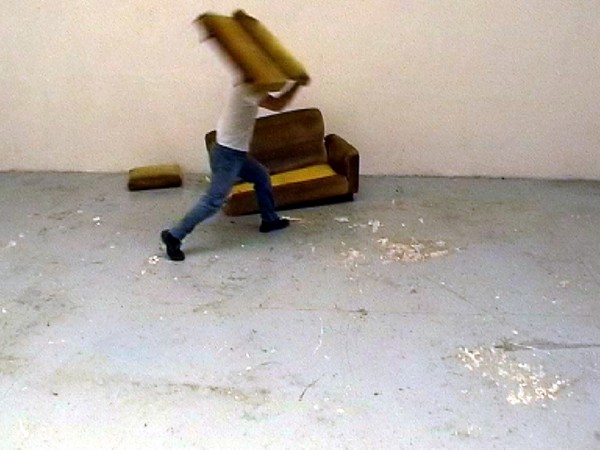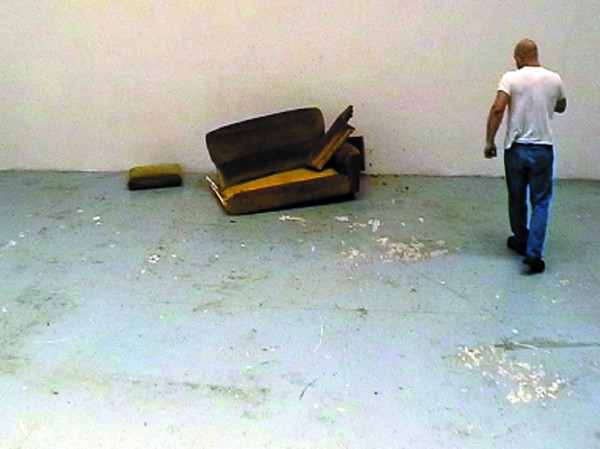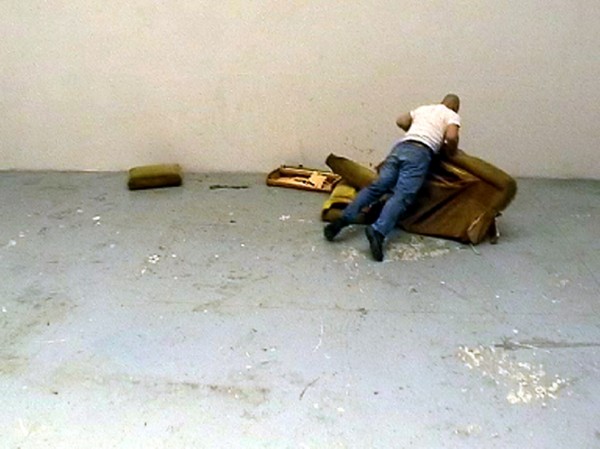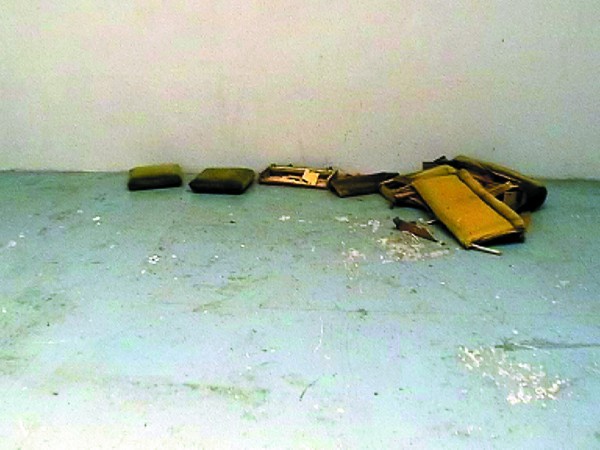 Il buon andrea / The good old andrea, 2003
Video-stills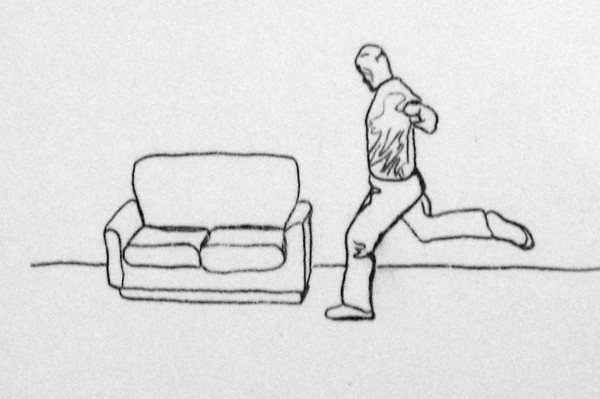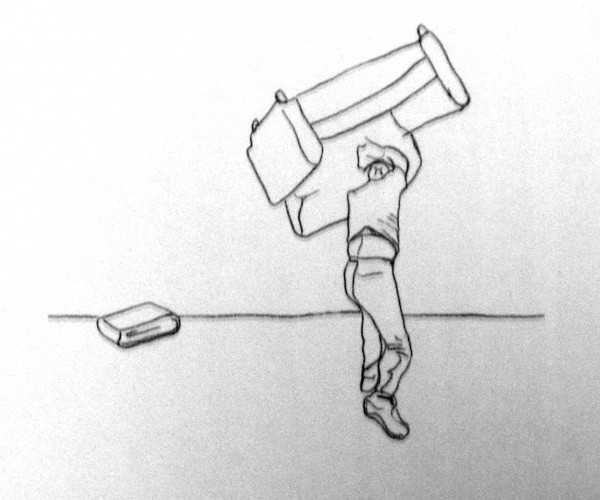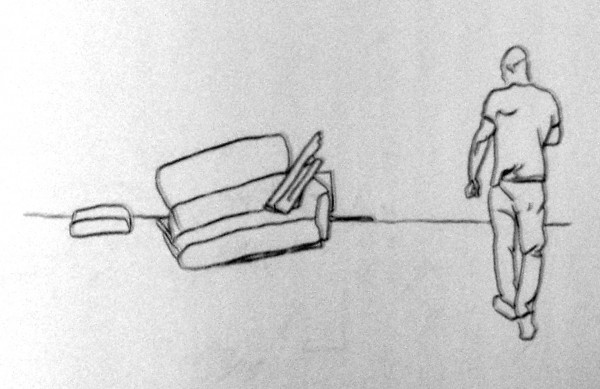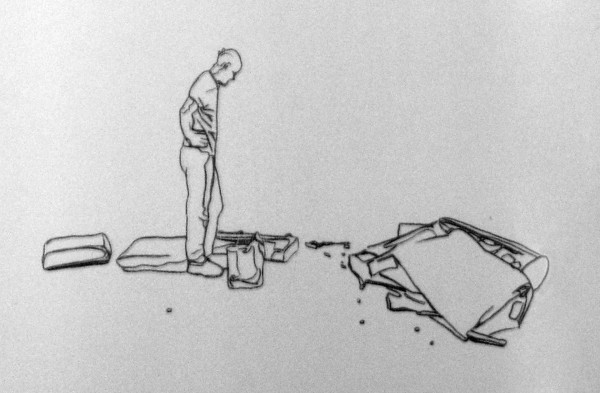 Il buon andrea / The good old andrea, 2003
Carbon-copy drawing on paper, cm 21 x 29,7
Un fannullone contemporaneo se ne sta a sonnecchiare sul divano in pieno giorno, come Paperino. L'atmosfera è quella di un'altra giornata persa, che può prematuramente concludersi senza troppi rimpianti. Il divano diventa l'emblema del fallimento, come per Andy Capp ne "Le vicende di Carlo e Alice".
Peccato che associazioni così leggere debbano presto lasciare spazio ad altre più inquietanti: il divano è vivo. Come il ferro da stiro chiodato di Man Ray, trasformandosi nel contrario di sé stesso il divano si anima per diventare un nemico. Perfettamente equipaggiato in abiti da lavoro (t-shirt bianca, jeans logori e scarpe anti-infortunio), Il buon Andrea ha tanta rabbia in corpo da finirlo in meno di cinque minuti. Lo stesso buon Andrea che ci aveva già fatto assistere alla sua cattura, con successiva reclusione in un freezer, da una telecamera a circuito chiuso. Una eterna diretta di violenza e di furore, fino allo stremo delle forze. Noncurante dell'esibizione della sua ignoranza, l'azione viene portata fino in fondo con determinazione. Nemmeno un cuscino quasi inerte riesce a sottrarsi al suo progetto insieme armonico e furioso. Lui i divani li addomestica per mestiere, portandoli da un luogo ad un altro a prezzo di un enorme sforzo fisico.
Altro che salotti culturali, altro che chiacchiere da salotto. Piuttosto l'immagine surreale di un trasloco nella sua fase intermedia, come quella che turbò profondamente Giorgio De Chirico, quando per le strade di Roma vide per caso i mobili di un'intera abitazione arredare temporaneamente un marciapiede.
E allora la distruzione del divano, il suo ostinato annientamento, è un'offensiva pari al capriccio di un ragazzino che urla spacco tutto! Oppure un dramma della gelosia raccontato con l'innoqua tragicità di una canzonetta: m'hai lasciato senz'acqua il canarino / m'hai lasciato il gatto senza ciccia… del buon Enzo Jannacci.
Alessandra Galletta
A contemporary idler is dozing on the sofa in broad daylight, just like Donald Duck. The atmosphere is of yet another day wasted, which can come to an early end without much regret. The sofa is the emblem of failure, as it is in Andy Capp.It's a pity that such entertaining associations must soon be replaced by more disturbing ones: the sofa is alive. Just like Man Ray's spiked iron, this sofa comes to life to become an enemy. Perfectly equipped in work clothes (with T-shirt, worn jeans and accident shoes), good old andrea is so angry he can destroy it in less then five minutes. The same old andrea, who is filmed by a close circuit camera while been captured and then closed up in a freezer. A never-ending live show of violence and fury, to the end of one's strenght. Notwithstanding the exhibition of its own ignorance, action is carried out completly and with determination. Nor is an almost inert cushion spared by andrea's both harmonic and furios project. He is a sofa tamer by profession, moving sofa from one place to the other at the cost of a hight physical effort.No cultural salon here, no drawing-room gossip. The surreal image of a removal in its intermediate stages instead, like the one which deeply affected Giorgio De Chirico, when, walking on the streets of Rome, he came up by chance against the forniture of a whole house, which was temporarily furnishing the pavement.So andrea's destruction of the sofa, his obstinate annihilation, is an offensive which reminds us of a naughty boy screaming: I'll break it all. Or a tragedy of jealousy innocently told by a pop song: "you left me canary bird without water / you left me cat without meat…" by our good old Enzo Jannacci.
Alessandra Galletta